Twelve Types of Reflective Tape – Deciding Which One is Best for You.
Introduction
Reflective tapes vary in brightness, flexibility, conformability, adhesion, durability, vividness, and color. These are all factors to weigh when choosing a reflective tape to use for your particular application. This article will discuss each type of "standard solid colored reflective tapes" that Reflective Inc. carries. (Our "specialty reflective tapes" such as DOT, FRA, RGA and Pre-striped Tapes will be discussed in a separate article.) The purpose of this post is to help you select the retro reflective tape that is best for your specific job. Choosing the right reflective tape involves weighing all factors which include the surface the tape will be applied to, the light dispersion (wide or narrow) and brightness needed, the colors that best fit the application, and the distance the tape needs to be seen both day and night.
---
Definitions
Retro Reflectivity – the ability of a tape to bounce or return light back to the source of the light. Glass spheres or prisms collect light, bend it, and send it back the way it came. Some return a wide cone of reflectivity, and some return a narrower one.
Light Dispersion – the width of the returning beam of light from a retro reflective surface. Some tapes reflect in a tight beam that extends out a great distance, and others reflect in a wider beam and can be seen closer in at greater angles from the source of the light.
Candelas – A unit of measurement used to compare the brightness of retro reflective surfaces. The candela is the unit of luminous intensity in the International System of Units. It measures luminous power per unit solid angle emitted by a light source in a particular direction. More candelas = brighter tape.
Photometrics – The scientific measurement of the brightness, intensity, or other properties of light.
CAD or Plotter Cuttable – a tape that can be cut into strips, letters, designs or shapes by a computer controlled design program and a plotter. A blade is used by the plotter to cut through the film and leave the release liner (wax paper backing) intact.
Chromaticity or Vividness – the quality of color, independent of how bright or reflective an object or film is. Involves factors such as saturation, or color intensity. In basic terms, this is how much a color stands out in normal light.
Self Adhesive – Having an adhesive backing protected by a release liner until ready to be applied. Also called Peel and Stick. All of our tapes, unless designated as "Sew On" are self adhesive or peel and stick.
---
Types of Reflective Tape
1. Flexible Engineer Grade (Type 1) – A highly conformable, thin reflective tape. This is our most popular and affordable reflective tape. It is also available in the most colors and widths. These films use glass beads for reflectivity. There are several reasons for the films popularity, especially among sign shops. First, engineer grade is an "enclosed lens" film which means that the glass beads in the tape are completely surrounded by polymer. This means that the tape can be cut either by an exacto, scissors, or a plotter, and the edges do not need to be sealed. Cutting has no adverse effect on the edges of an enclosed lens film. This makes engineer grade perfect for graphics applications and sign shops. Type 1 films also thin and have no pattern, just a nice smooth solid color which also makes engineer grade popular for vehicle graphics and signs as well as thousands of other applications.
In our online stores, we carry a special "Flexible" Engineer Grade which features a polyester topcoat that makes it much more flexible, conformable and stretchable than "Standard" Engineer Grade. This characteristic makes the tape perfect for graphics applications where films need to mold over uneven surfaces or wrap around very tight diameters. For example, fire department use Flex EG films to wrap their tools for easy identification.
Engineer grade film reflects at about 75-85 candelas and returns light at broader angles than prismatic tapes. (Floodlight vs Spotlight) Because of this wide dispersion of light, engineer grade returns about 1/3 of the light back to the actual light source with the rest being dispersed around the target. This causes the film to light up quicker than prismatic tapes and makes it visible at wider angles. The offset is that since light is spread out, it dims out quicker at a distance. Engineer grade tapes are therefore recommended for close in applications where the viewer will be within 300 feet of the tape.
Most popular film, low cost, simple to apply, and durable. Outdoor rating of 7 years.
Bright colors with no pattern. Single-layer film. Will not delaminate.
Very flexible due to a special polyester top coat. Thin. Conformable. Stretchable.
Easily Plotter cut into graphics, letters, numbers, logos, and shapes.
Available in TEN colors – White, Red, Yellow, Blue, Green, Orange, Gold, Lime, Violet and Black (black reflects bright gold)
Often used for bollards, gates, buildings, lift gates, signs, cars, boat graphics, etc..
Available in 1″, 2″, 3″, 4″, 6″, 8″, 12″, and 24″ widths.
Brightness (WHITE) 75-85 Candelas Great visibility at medium to short distances.
---
2. Super Engineer Grade (SEG) Type 2 retro reflective Tape is a thin, flexible film that is similar to engineer grade. Ultra high index beads create a reflectivity coefficient of 150-185 candelas versus 75 – 85 for standard engineer grade. This tape has the same smooth, even colors with no pattern. A faint star watermark about every 4 inches designates the tape as SEG, and is only visible close up. SEG looks and feels like Engineer Grade but is twice as bright. It is slight thicker than Engineer, but barely. SEG is not quite as flexible as Flexible Engineer Grade but will conform some. If you want a brighter tape, and your application surface is relatively flat, SEG will work for you. If you need a very moldable and stretchable tape, stay with Flexible Engineer Grade.
Due the higher index glass beads in SEG, it returns more light back to the light source than engineer-grade tapes. About 45% of received light is returned to the source, with the rest returned around the light source.
Slightly more expensive than engineer grade but much brighter and similar in feel and function.
Great for sign backgrounds, bollards, boats, traffic control devices, vehicles, bikes, commercial equipment, motorcycles, and more.
Suitable for medium to close in applications (up to 500 feet) where a brighter tape is desirable.
Wide angle of reflectivity. Lights up quickly and easily.
Very durable with an all-weather outdoor rating of 10 years. 3 years longer than engineer.
Available widths: 1, 2 and 4 inch. Six colors – red, white, blue, green, yellow, orange
Mildly conformable.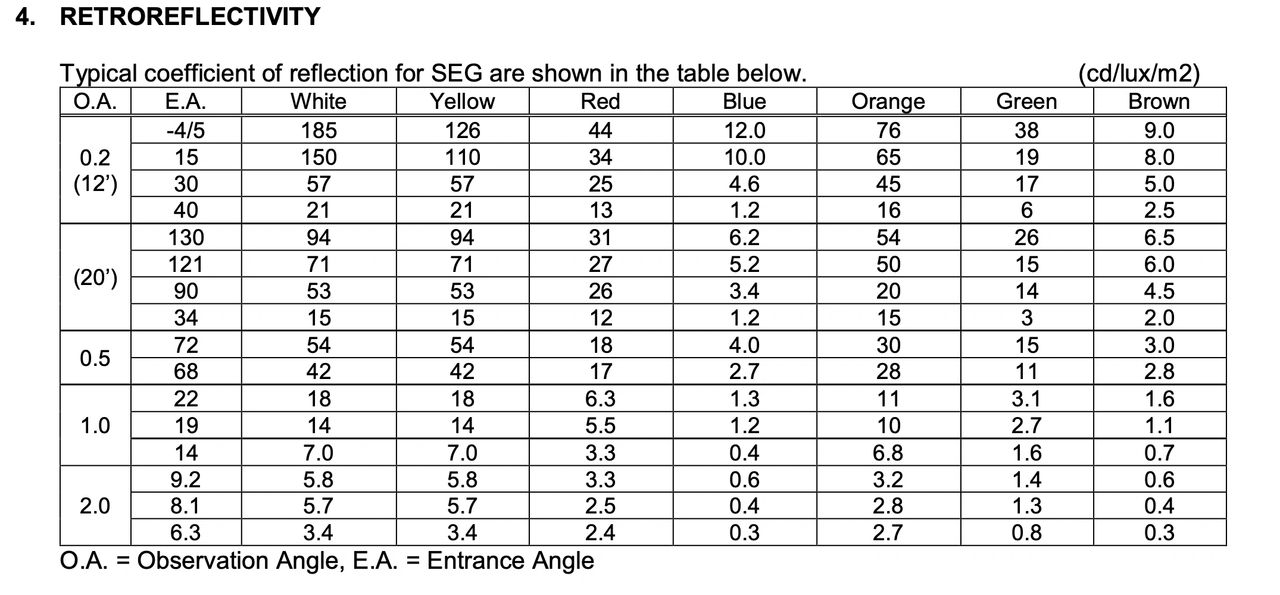 ---
3. High Intensity Grade Type 3 (Standard Version) is a thin retro reflective sheeting that uses high index glass beads for reflectivity, but in a different configuration. In this type of high performance glass bead tape, high index beads are condensed into honeycomb cells and backed with metallic surface. This is referred to as an encapsulated lens retro reflective film versus an enclosed lens like in EG and SEG films. The resulting tape is more than triple brightness and efficiency of engineer grade and double the reflectiveness of super engineer grade. Available in six colors. This retro reflective sheeting is widely used for traffic control, bollards, boats, watercraft, cars, trucks, motorcycles, and much more. Durable and weather proof with an outdoor rating of 10 years. For dynamic applications, edge sealing this tape helps with longevity. CAD or plotter cutting is not recommended for this film.
Colors – White, Orange, Red, Yellow, Blue, Green.
Widths available – 1″, 2″, 4″, 6″, 8″.
---
4. Flexible High Intensity Grade Type 3 (Flexible Version) Reflective Tape. A highly conformable, thin film, that is just like standard high intensity glass bead tapes but with a flexible top coat that allows the tape to stretch and bounce back after an impact. Designed for highly dynamic work zone applications on objects such as traffic cones and road barrels, but is also great for other similar applications that need a bright, flexible, stretchable tape. Very durable with an outdoor rating of 10 years. (Note – durability is less in a work zone where the tape is subject to abuse.)
Just like flexible engineer grade, Flexible High Intensity Type 3 will wrap around very small diameters without any lifting. Flexible high intensity is also incredibly bright. Of all the tapes in our stores, this is the most versatile, mostly due to its brightness and ability to stick and conform to almost any surface.
Colors – White, Orange, Yellow.
Widths: 1″, 2″, 4″, 6″ inch.
---
5. Nikkalite High Intensity Micro-Prismatic Type 4 (HIM) is an acrylic based rugged air backed prismatic reflective film made by Nippon Carbide. It is one of three air backed films that we carry in our online stores. Because it is an acrylic based film, it is stiffer and less conformable. However, it has a long 10 year outdoor life. Like all acrylic based films, it is best installed on a flat surface.
Air backed reflective sheeting is different from metallized films. For metallized films, a prismatic array is coated with a mirror backing to create a thin, highly reflective tape. Air backed films are a little different. They use the same prismatic array, however, instead of a metallized backing, they use a white backing that is separated from the prismatic array by a thin layer of air. This produces a more vivid color in the daytime. Because of their layered construction, air backed films are thicker. As a general rule, air backed films are used for static applications like signs, whereas metallized films are used for dynamic applications like stripes on vehicles. For most applications, they are interchangeable. Just keep in mind that air backed products are thicker than metallized ones. Air backed films are a little thinner than a credit card, and metallized films are about as thick as two sheets of paper.
Because this Type 4 High Intensity tape reflects using micro prisms instead of glass beads, it returns about 65% of the light back to the light source. Colors available are White, Blue, Green, Yellow, Orange, and Red.  This tape is bendable, but does not stretch.  It wraps well around large diameters but not small ones.  A 2 inch pipe would be the minimum radius recommended for this tape. Best for flat, smooth surfaces where a very bright and vivid tape is desired.
HIM Type 4 reflective film can be used to mark loading docks, dumpsters, bollards, automatic and manual gates, poles, buildings, truck tailgates, barricades, trailers and vehicles not regulated by the DOT, etc… Can be used in an unlimited variety of applications.
High Intensity ASTM D4956 Type 4 Micro Prismatic Air Backed. Rated for 10 years outdoor service life. Resists chipping and cracking.
1″, 2″, 4″, 6″, 8″. 30′ and 150′ rolls available in our online stores.
5-6 times brighter than standard engineer grade film. Meets or Exceeds all federal and state specifications for ASTM D49656 Type 4 sheeting.
Air Backed Micro Prisms are encapsulated in a honeycomb design which produces a more "vivid and "brighter" retro-reflective tape. Edge sealing will extend the life of air backed films, however, this is not required.
Stiffer, more substantial tape, like a credit card. Easy to handle and work with. Thickness is equal to "5 SHEETS" of standard typing paper. Great tape for flat, smooth surfaces.
Resists chipping and cracking.
Strong pressure-sensitive peel and stick adhesive. Easy installation. Remove release liner and stick to a clean, dry surface with no compound curves and press on with a soft cloth or squeegee.
---
6. Oralite 5930 This is an ASTM D4956 – Type 4 film with a Class 1 adhesive backing. (peel and stick) PVC construction makes it very rugged and long lasting in difficult environments like work zones. 5930's air backed prismatic design makes it brighter and more vivid than comparable reflective films. Oralite 5930 (ASTM D4956 Type 4) films come in White, Standard Yellow, Fluorescent Lime, and Fluorescent Orange. This film is weatherproof and features a permanent adhesive that is aggressive enough to adhere to low energy plastics and other surfaces.
The difference between 5930 Type 4 and HIM Type 4 above is that HIM is an acrylic based film made for static applications where the tape will not be abused. 5930 is designed for dynamic environments where the tape may endure more rugged treatment. The flexible PVC composition resists cracking, conforms to mild curves, and is rugged. HIM prismatic also comes in more colors.
Oralite 5930 High Intensity Prismatic work zone reflective tape is UV or Screen Printable. This reflective tape is different from standard acrylic Type 4 material in that it is softer and more reboundable. It is also much more resistant to chipping and cracking. It conforms much better than acrylic. It is more impact resistant, which makes it great for dynamic and rugged applications. This rugged material would be a film you would use for applications where activities around the object or surface you are applying the tape to might bump or impact the tape. 5930 will hold together when other tapes would be damaged and lose their integrity. So it is a very bright tape, that reflects at a relatively wide angle, that can take rough treatment and continue to perform.
Applications
For short- to medium-term outdoor applications; excellent adhesion to low energy plastics
Reflective Technology
Prismatic Air Backed
Thickness
18 mils thick
Adhesive
White, permanent adhesive
Durability
5 years
Print Compatibility
Screen printing & UV printing
Available Colors
White, Yellow, Fluorescent Orange, Fluorescent Lime
Available Widths
(in inches)
1″ , 2″ , 4″ , 6″ , 12″ , 24″
Available Lengths
25′ and 50′ rolls
Certifications
Meets ASTM D 4956 specifications for Type IV, Class 1 retroreflective sheeting
---
7. Oralite V92 Daybright Series Prismatic Reflective Tape is our most affordable "Metallized Prismatic" reflective tape. It is about as thick as two sheets of paper. Our customers appreciate it's low profile and prefer it over thicker more bulky tapes. Like all Oralite films, it is thin and flexible. (V92 is not stretchable) This is an enclosed lens micro prismatic tape that utilizes efficient prisms to bounce light back to the source. Because of its construction, V92 is excellent for CAD or Plotter cutting. Graphics, letters, logos, number, and more can be easily cut from this film and applied to vehicles and other surfaces. Edges do not have to be edge sealed.
A special Day Bright pattern makes V92 films more vivid and colorful day and night. Due to its highly effective return of light, V92 and other prismatic tapes are visible from thousands of feet away versus hundreds for standard reflective glass bead tapes. Daybright tapes return around 80% of the light back to the source. V92 by Oralite is also rugged and weather-resistant with an outdoor rating of 5+ years. Popular for marking loading dock areas, bollards, posts, buildings, gates, factory entrances, power boxes, barricades, lawn equipment and mowers, landscaping trailers, tractor trailer rigs, emergency vehicles, school buses, police cars, fire trucks, and more. Because it is designed for vehicle graphics, it is not a typed film. However, it would be equivalent in brightness to a type 4 film.
Thin easy to use film. Thickness equal to about "2 SHEETS" of standard copy paper.
Colors Available – White (silver), Blue, Red, Green, Orange, School Bus Yellow
Widths Available from our online stores – 1″, 2″, 3″, 4″, 6″ (Note-wider tape returns more light)
Max Reflectivity (Color White) – 460 Candelas
Enclosed prismatic lens technology. Very durable. No edge sealing needed.
5 times brighter than standard glass bead tapes.
Weather-resistant and outdoor rated for 5+ years.
Visible from high distances. Can be seen from over a thousand feet away.
CAD or plotter cuttable into graphics, letters, numbers, symbols.
---
8. Oralite V98 Retro Reflective Conformable Prismatic Reflective is our most popular reflective tape for marking fire trucks and apparatus, vehicles, and more. It is a PVC based reflective film and very easy to plotter cut. Using V98 and a plotter, you can create a myriad of reflective graphics. No edge sealing needed due to the enclosed lens construction.
Oralite V98 is bright when reflecting, and because of its unique pattern, (same as our daybright V92 film), it is also vivid in daylight. It will wrap around tighter radiuses and conform due to its softer more flexible construction, and it's single layer construction means it will not delaminate.
Very popular tape among fire departments. Red and Lime being the most popular for Chevron Striping.
Micro-Prismatic PVC based Reflective Material that is 7 times brighter than standard engineer grade. Softer feel than V92 or V82 films.
Single layer construction. Won't delaminate and come apart like other reflective films. Keeps reflecting even after being struck or impacted. No edge sealing needed when CAD cutting.
Thickness equal to "4 SHEETS" of standard typing paper.
5 – 7 year outdoor service life depending on conditions and UV exposure. Vehicles kept garaged will experience longer life for graphics.
Reflects out thousands of feet away versus hundreds with standard engineer reflective tapes.
Repositionable Adhesive. Builds more and more adhesion over time. End holding power is the same as standard adhesives.
Used to mark emergency vehicles, fire trucks, boats, pipes, bollards, helmets, ambulances, loading dock areas, poles, dumpsters, gates, barricades, tractor-trailers, and much more.
Sold on our sites in WHITE, GREEN, BLUE, RED, FLUORESCENT LIME, SCHOOL BUS YELLOW AND FLUORESCENT ORANGE.
Available from our online stores in 1″, 2″, 4″, 6″, 12″ and 24″ rolls.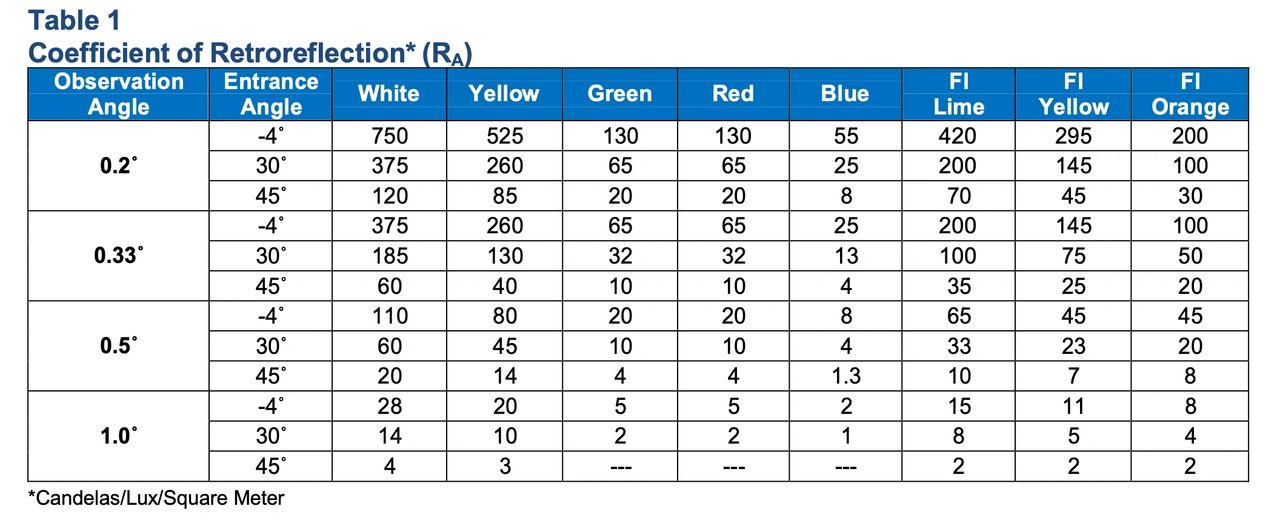 Chart above shows typical candela readings.
---
9. Oralite V82 Prismatic Type 5 Reflective Tape is our brightest Oralite product besides SOLAS. (which is based on a similar film platform)  V82 or AP1000 film is often described as SOLAS in colors due to its incredible brightness and beautiful colors. It is safe to say that this film is the brightest in the world.  It is an ASTM D-4956 Type 5 film meaning it can be used for sign sheeting.  However, it is most popular for high viz applications where the tape needs to be seen for thousands of feet away.  Examples of these types of applications would be traffic delineators and channelizers, emergency vehicles, fire trucks and apparatus, search and rescue, marine use, bollards, heavy equipment, etc.  V82 is very thin and very bright.  It does not stretch but will wrap around bollards and pipes very well.  For pipes, a good guideline for minimum diameter is about 2 inches.  For smaller pipes use our Flexible High Intensity Tape. 
ASTM D-4956 Type 5 Reflective Sheeting.  AP1000.
Brightest colored film in the Oralite (formerly Reflexite) Line.
Based on the AP1000 film which is the brightest reflective sheeting in the world.
Single-layer construction which means it will not delaminate like other films.
Thin easy to use film. Thickness is equal to "2 SHEETS" of standard typing paper.
10 year outdoor service rating. All weather film.
Thousand foot plus visibility. Versus hundreds with standard reflective tapes.
2.5 mil strong adhesive.  Remove release liner, apply, and press on with a soft cloth. (Clean dry smooth surface is best)
Used for marking EMT vehicles, fire trucks, ambulances, bike helmets, motorcycle helmets, hard hats, loading dock areas, bollards, wooden poles (on wood, add a staple to secure), dumpsters, gates, barricades, tractor-trailers, and more.
Available on our sites in White, Blue, Standard Yellow, School Bus Yellow, Green, Orange, and Red.
We carry Oralite V82 in 1″, 2″, 3″, 4″, 6″ and 24″ wide rolls.
Very similar to our SOLAS tape but in colors.

Note – Chart shows minimum reflectivity needed for type 5.  Actual for V82 (AP1000) is much higher. Up to 2000 candelas for white in some tests.
---
10. Nikkalite Crystal Grade Type 8 Prismatic Reflective Tape is our top of the line air backed prismatic film. We carry red and yellow CRG as striping for fire trucks and apparatus.  It is thick, very durable, and incredibly bright.  CRG is a "Super High Intensity" class of prismatic sheeting that meets the requirements of ASTM D 4956, Type VIII. It has high retro reflectivity characteristics at both long and medium distances.  Crystal grade is about the thickness of a credit card but a little more flexible. It is best suited for flat or slightly curved surfaces with no complex curves.  This film is ideal for highway signs, barricades, roll off containers, bollards, dumpsters, construction equipment, loading dock areas and more. Lastly, this is an acrylic based film which gives it dimensional stability and a long vivid 10 year outdoor life.
Photo-Metrics – Like other prismatic films, Crystal Grade (CRG) utilize man made micro prisms for retro-reflectivity.  This technology is much more efficient than glass beads and produces films that reflect 4 – 10 times brighter. With a prismatic array, approaching light reflects efficiently and most of the light is reflected back to the source.  Reflective micro prisms in CRG material use three reflection planes that constitute the reflective element of the film.  These prism faces are positioned at 90-degree angles to each other, providing incredibly efficient light return within the element.
CRG reflective is the toughest, brightest and most vivid air backed prismatic tape that we carry.
Meets or exceeds ASTM D5956 Type 8 Requirements for Traffic Sign Backgrounds.
Available in Red and Yellow rolls. (6″ x 30 foot or 6″ x 150 foot)
10 year all weather outdoor rated film.
Used where extreme sight distance visibility is required.

---
11. Oralite SOLAS (safety of life at sea) is a marine grade tape and is our brightest reflective film.  It is available only in a white (silver grey) color. SOLAS is a rugged marine grade tape designed for off shore applications. It bears the Coast Guard required SOLAS logo which is a ships wheel. Oralite SOLAS tapes comply with U.S. Coast Guard Specification G-Sec-393A for use on Maritime Aids to Navigation. (M82-1545 FD1403 and FD1404 Type) Oralite SOLAS is visible from about a half mile away which is crucial, in that it is used for search and rescue applications where an individual or lifeboat needs to be seen from long distances away with spotlights. SOLAS high-performance marine tape is silver grey color in daylight and reflects a hot bright white at night. It is not meant to get attention in daytime, however, at night is the brightest tape on the market by far.   
Oralite SOLAS is manufactured for harsh outdoor environments.  As a comparison to other films, SOLAS returns more than 90% of light back to its source.  This film is 8-mils thick, flexible, UV-stabilized and weather- resistant. Both 1403 and 1404 adhesive SOLAS tapes feature 5 mils of very strong adhesive.  This allows the tape to adhere to rougher surfaces that a normal tape would.  The surface still needs to be clean, dry and as smooth as possible, however, the extra adhesive helps when applying to difficult surfaces. SOLAS can be adhered to nylon fabric surfaces, however, they will not survive a washing. A survival suit is an example.
Adhesive SOLAS comes in two types,1403 and 1404.  1403 SOLAS is a thin flexible film but does not stretch.  It is used on hard surfaces.  1404 SOLAS is also flexible but is thicker and more pliable.  It will stretch and rebound.  It is used for applications on flexible surfaces like survival suits or zodiac inflatable boats. SOLAS is used for all types marine type applications such as increasing the visibility of life jackets, ring buoys, survival suits, rain suits, lifeboats, buoys, channel markers, etc. on the water. Basically anything on a boat or ship that needs to be seen in an emergency. Popular land applications are backpacks, jackets, horse trailers, traffic control devices, cargo trailers, automobiles, bicycles, motorcycles, snow poles, helmets, hard hats etc.. Comes in 1, 2, 4 and 6 inch widths. Can be cad cut into letters, numbers, shapes and more. For applications where confirmability is desired, use 1404.
SOLAS by Oralite also comes in a sew on type. It is the 1403 film on top, backed with fabric. It is surprisingly flexible, just like a strip of fabric. The material can be either hand or machine sewn and when secured to a garment, can handle many wash cycles. Cold water gentle, cool dry. Gentle cycles. Sew on SOLAS is popular for jackets and rain suits both on and off the water. This film is especially popular with motorcyclists for its extreme sight distance and flexibility.
The sister material to SOLAS in look and feel would be Oralite V82 (AP1000) films, described above. Although V82 is not SOLAS, it is similar and is often thought of as SOLAS in colors.
Maximum Reflectivity 1000+ Candelas
Weather-resistant film designed for harsh environments.
Visible from over 3,000 feet
Plotter Cuttable into letters, numbers, symbols
5 mils of aggressive adhesive.
Available in a 1404 flexible, 1403 for flat surfaces and a 1403 sew-on.

---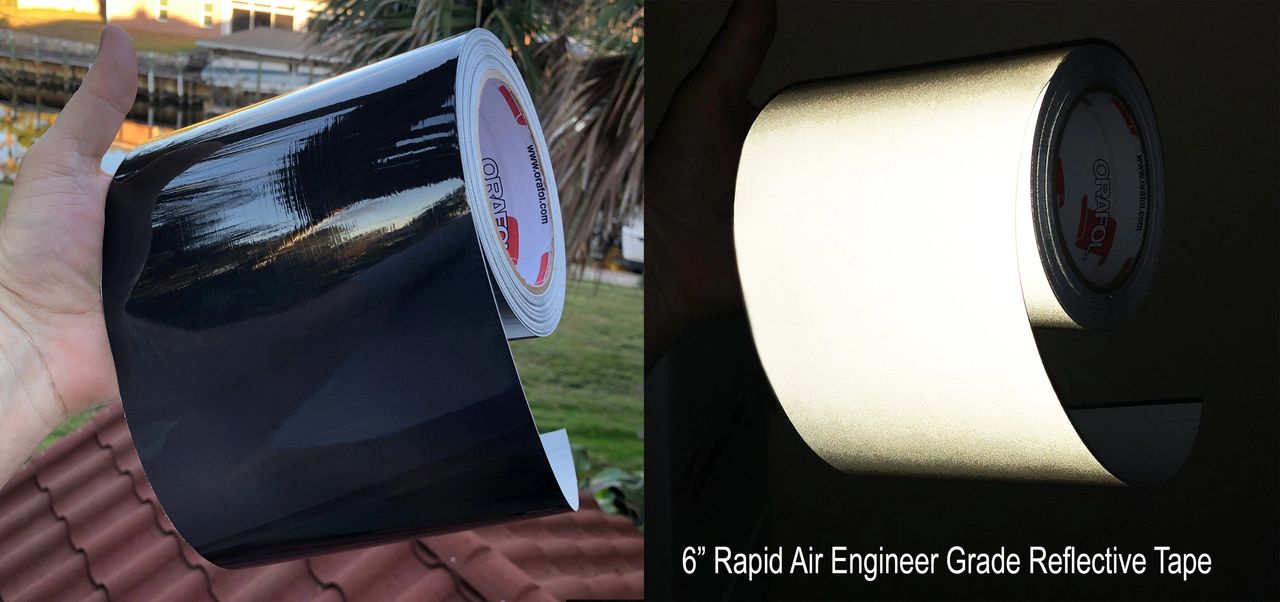 12. Black Oralite 5650 Rapid Air Engineer Grade Reflective Tape – black in the daytime and bright white** when reflecting at night.  Brighter than the Nikkalite brand of black reflective and a little more expensive.  This film is popular for shadow or ghost chevron stripes which are popular on police cars and some emergency rescue vehicles.   5 mils thick with air channels in the adhesive layer that allow the user to apply the film and then press out any bubbles.  Hence the name, Rapid Air.  You will find more specifics below.
5 Mil thick fleet engineering grade reflective with clear re-positionable, solvent based, permanent adhesive. Rapid Air Egress technology to facilitate easier application and minimal bubbles.
Developed for high quality vehicle graphics applications including letters, graphic, logos and markings.  Black and white are often used for Shadow graphics on white or black vehicles.  Per the chart below, white reflects at 100 candelas, and black reflects at 35.
7 year outdoor durability, and clean removable for up to 4 years.
89lb poly coated silicone paper release liner.
Meets or exceeds Federal Specifications ASTM D 4956 Type 1
Wet applications are not recommended and Rapid Air backing makes them unnecessary.
Print compatibility: Eco Solvent, Solvent, UV, and Latex.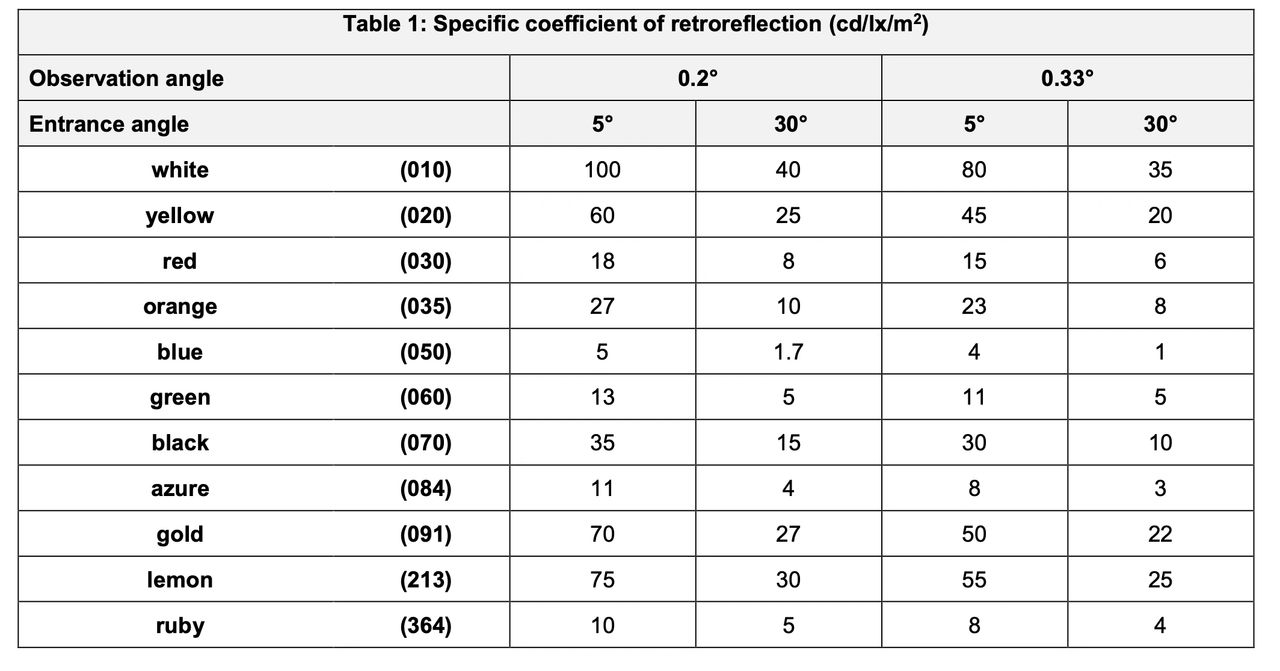 ---
I hope this information has been helpful. With so many reflective tapes available, it is often difficult to determine which is best for an application. I recommend first considering the tapes will stick and conform to your surface. Flat surfaces can use any tape, but curved surfaces often need a conformable, stretchable tape. Secondly, I recommend selecting the color that you would like for your application. Choose a color that conveys the message that you are trying to project. One that will contrast well with your surface so it can be easily seen day and night. Finally, determine how far away viewers will be when they need to see the reflective tape. Some tapes work well for close in applications of say 300 feet or less. And some work well out beyond a thousand feet. Wide angle prismatic tapes offer the best of both worlds by providing a bright return of light, in a wide observation angle. If you have any questions or need a sample, contact me using the link above.
Steven Cole (Economics, MBA – University of West Florida , Business & Innovation – Stanford University) 25 years of experience in the reflective safety business.  Specializing in vehicle accident and rear end collision reduction through increased visibility.